Ben Griego
Rise and Shine (7am – 11am)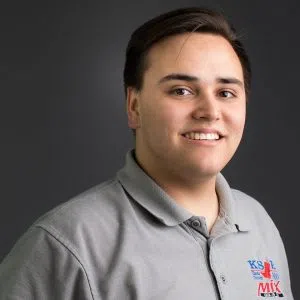 Ben Griego is the host of Rise And Shine weekday mornings on Mix 93.3 as well as the production and music director for Mix 93.3 and KSJB. He also does a little play- by-play for the two stations from time to time.
Born and raised in Denver, Colorado, Ben is the youngest member of the Mix 93.3 team. He got his start in radio by attending the Ohio Center for Broadcasting's Colorado campus in 2015. There he completed a 9-month core program along with a 6-month sports emphasis program while also interning at 104.3 the Fan in Denver. He joined Mix 93.3 and KSJB fresh out of bootcamp in December 2016.
On Rise And Shine Ben focuses on a high-energy, interactive experience in which the listener feels just as involved as he does. He talks about local and national events, news, funny and strange stories, and tidbits of humor and usless information.
You can listen to Ben Griego LIVE on Mix 93.3 Monday through Friday from 7-11am, and on the Ben Ten Rewind, which Airs Fridays at 11pm and replays on Saturday and Sunday at 6pm.
Ben Grego
beng@ksjbam.com
701-252-3570